How about looking a year younger every birthday?
This could be a dream come true with Happy Birthday Skincare Time Machine and Time Essence.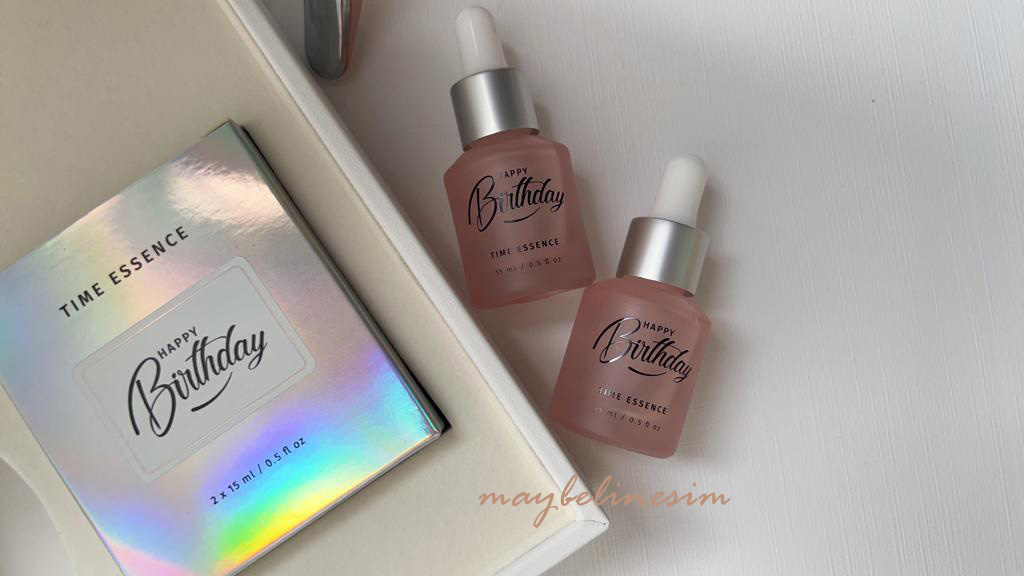 Each box comes with one Time Machine and 2 bottles of Time Essence.
Time Essence uses cutting edge science and a property blend which work together with your skin to bring you good skin days. What I really love about their essence is how quickly it gets absorbed into the skin. There is no sticky or oily residue and I always wake up to glowing and supple skin the next morning.
The essence is said to promote skin elasticity, brightness, evenness, and youthfulness while diminishing all seven variants of forms and lines.
​Ingredients that makes up Happy Birthday Time Essence:
Uttwiler Spätlauber Apple Stem Cells – slows down the onset and depth of wrinkles and prevent UV damage.
Superoxide Dismutase – most powerful antioxidant enzymes in the body. Stimulates self-repair, protects against oxidative stress, and combats hyperpigmentation from sun damage, age spots, and acne marks for a more even complexion, it brightens the skin overall.
Sodium Hyaluronate – attracts moisture in skin cells and reduces dryness and flaking by increasing hydration.
Acetyl Hexapeptide-8 – tightens the skin and almost immediately reduces deep wrinkles.
Palmitoyl Tripeptide-5 – stimulates collagen production to create more youthful cells and promotes healthy tissue growth, resulting in firmer, younger-looking smoother skin with reduced wrinkles and fine lines.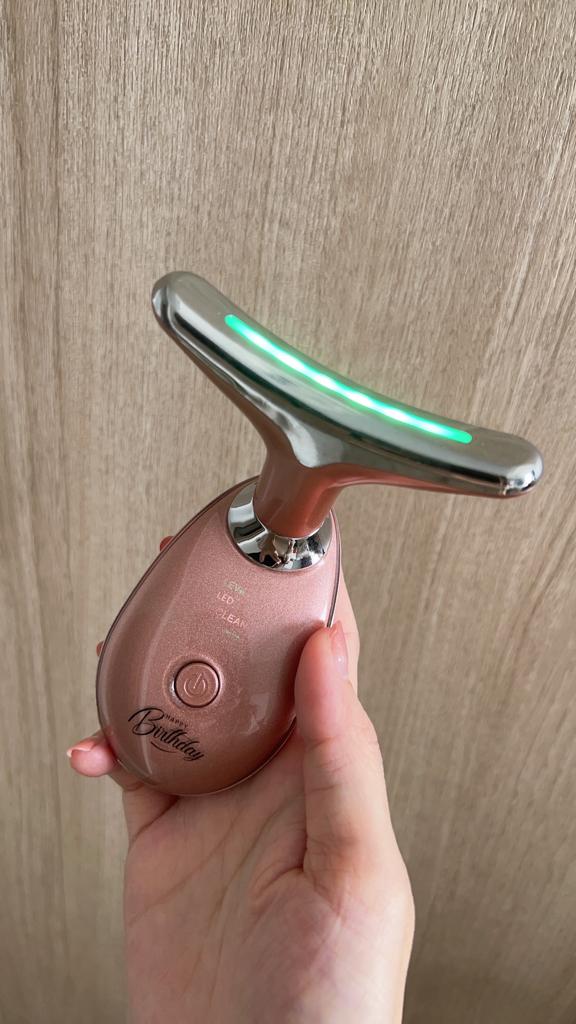 For even better results, I recommend you to use the essence with Happy Birthday's Time Machine (LED light therapy device). Time machine uses gentle LED pulsed light therapy to promote healthy looking skin. Do not belittle this device as it has three different lights for different function.
Red LED diminishes signs of ageing and boosts self-repair.
Green LED evens out skin tones, brightens dull complexions and softens dark spots.
Blue LED stabilizes overactive oil production and prevents breakouts.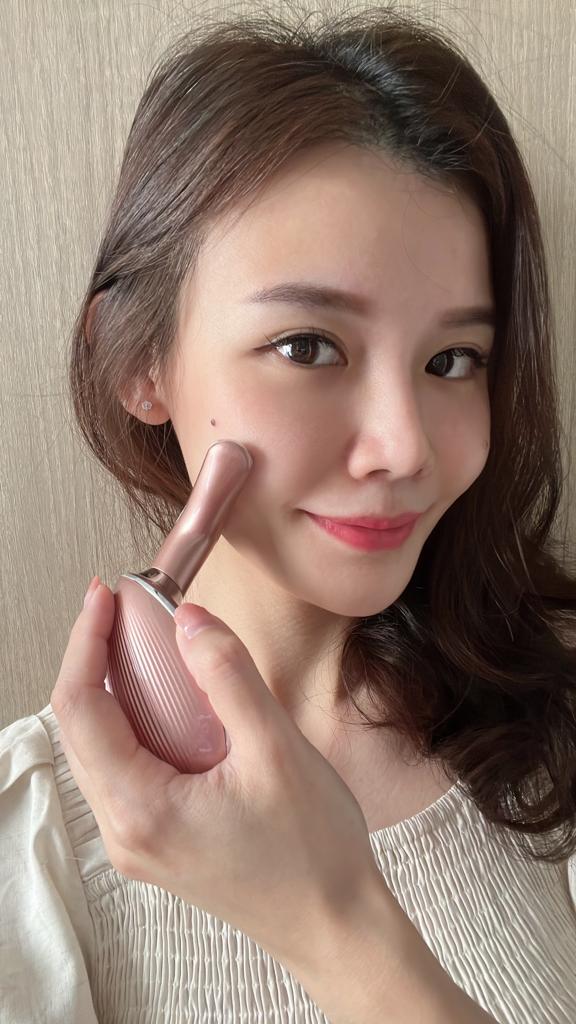 It is a small and handy device that you can bring along for your staycations or travel trips. You can shop till you drop overseas and still wake up to good skin!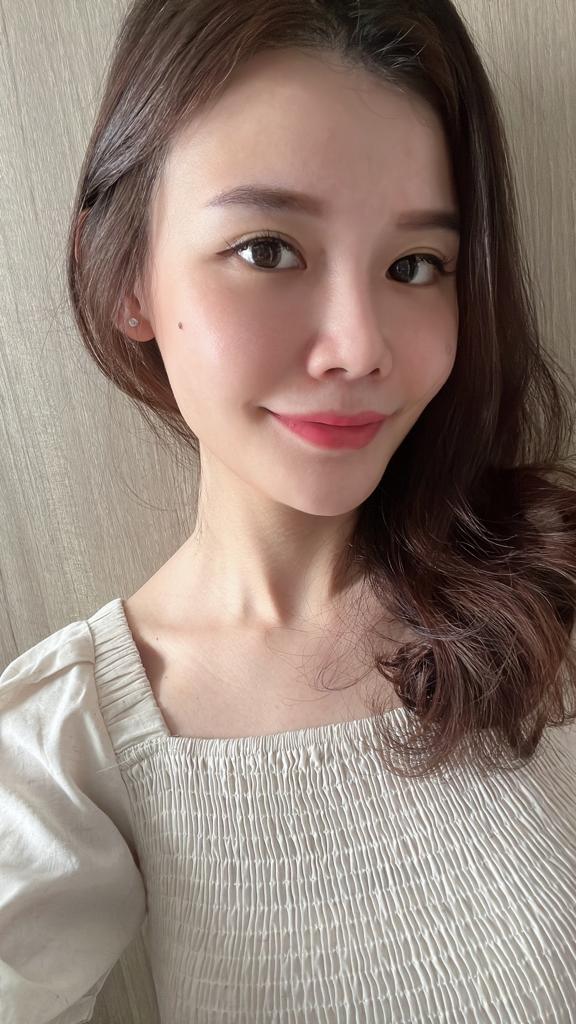 After using Time Essence and Time Machine for months, I noticed that my skin has gotten visibly brighter and firmer! This is not based on my own observation alone because even my husband asked me what did I do to my face because he noticed the glow himself.
I am so surprised that my skin is still glowing despite the lack of sleep from breastfeeding!
I am a user of Happy Birthday Skincare and I love the results! I don't enjoy having glowing skin – said no one ever.
For more information or if you are looking at purchasing Happy Birthday Skincare, please click here.
https://linktr.ee/happybirthday.skincare
Official Website: www.happybirthdayskincare.com
Shopee: http://shopee.sg/happybirthday_skincare
Lazada:https://www.lazada.sg/shop/happy-birthday-skincare